Four Thumbs Up Pinot Values: Dopp Creek and Goodfellow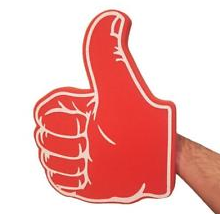 Willamette Valley Pinot values are rocking today with the brand new Colene Clemens Dopp Creek '17 and Goodfellow '16. Both wineries bring their A game to their entry-level Pinots. Picture us with four of those gigantic foam hands, and four thumbs up. Yup, like that!
Colene Clemens Dopp Creek Pinot noir 2017
$25.15 in any 12 bottle or Build a Case* order
Given its track record the last three vintages (including two appearances in Wine Spectator's Top 100), Dopp Creek has firmly established itself as one of the best values in Willamette Valley Pinot noir. The 2017 is OUR pick of the last three vintages (yes, you read that right). What we love about it: wonderful aromas, silky-bodied cherry-red berry fruit, excellent balance, classic Willamette Valley Pinot. Will the critics (one in particular) agree? We neither know nor care, since we know Willamette Valley Pinot better than they do, anyways. 
Goodfellow Willamette Valley Pinot noir 2016
$19.75 in any 12 bottle or Build a Case* order ($21.95 regular) 
In the most technical of wine terms, holy crap this is good! Outstanding Oregon Pinot for the dollar, this wine over delivers then backs the truck up and delivers some more.  

We love the Goodfellow style: wines that are as enjoyable as they are intellectual, beguiling you and quenching your thirst in equal doses. Made from Durant, Whistling Ridge, and Fir Crest vineyards priced more than humbly because hey, that's just the way Goodfellow rolls.
We're looking forward to helping you with an order. Thanks for your support!
Marcus and Andy
---