Brunello for the Soul
Fellow Montalcino fans,
While a couple months and dozens of bottles have passed, the glow of an
amazing afternoon at La Gerla continues to warm the soul. Visiting their vineyards south of Montalcino as the Sangiovese was harvested, enjoying lunch and the entire La Gerla line-up with the harvest crew -- all was affirmation of why I've spent the past 15 years in wine.
With the brand new arrival of La Gerla's 2016 Rosso di Montalcino (believe everything you read and hear about the greatness to come in the 2016 vintage!) and the re-arrival of 2013 La Gerla Brunello (we already know of the greatness of 2013), it's high time to share these indelibly special wines with you.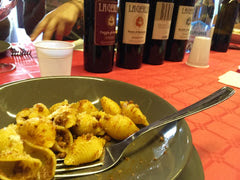 La Gerla Brunello di Montalcino 2013
$49.45 in any 12 bottle or Build a Case* order ($54.95 regular) 
A wonderfully elegant Brunello, and one that is drinking beautifully already, this is a prime candidate for your winter dinner wine. Regal and red fruited, with deeper fruit layers unfurling after it breathes, it has a panoply of Tuscan accents in the herb, spice, and mineral realms. As stated, enjoy now or cellar for at least a decade. In the best vintages, like 2013, La Gerla's Brunello is a blend from their vineyards in Castelnuvo dell'Abate (south) and Canalicchio (north). (it paired amazingly well with the proprietress' special ragu, at right)- Me
A couple additional endorsements:
94 points Wine Advocate:
"The 2013 Brunello di Montalcino is elegant, balanced and bright. The pretty luminosity of the wine's appearance helps to underline this positive impression. The bouquet is nuanced and layered with dried fruit aromas that segue to spice, tar and balsam herb. You get sassy aromas of licorice, tar and cola on the close."
93+ points Vinous:
"Pure and very flinty nuances complement aromas and flavors of strawberry-rhubarb and wild berries on the nose and palate. Dense and juicy and boasting a focused, penetrating mouthfeel, this finishes long and clean with a very strong note of licorice. Best classico 
Brunello from La Gerla in some time."
La Gerla Rosso di Montalcino 2016
$23
.35 in any 12 bottle or Build a Case* order ($25.95 regular) 
This wine isn't just singing right now, it's belting out the high notes left and right. So delightfully red in character, expanding with sweet and persistent cherry that's surprisingly dense and lengthy, picking up smoky mineral, herb, and licorice accents through the pure finish. While it will be a couple years until we see the first 2016 Brunellos, I highly encourage you to begin sinking your teeth into the 2016 Rossos. 
I'm looking forward to helping you with an order. Thanks for reading and for your support!
Marcus
---
Also in Offers
Whatever your vibe, we got you.
All four of these have the Marcus and Andy seal of approval!
Twenty years from now we'll still be talking about 2019 as a classic vintage.
Build a Case
Make sure you always get a discount by using Build a Case. How it works:
If you haven't found a full case (12 bottles) to buy today, start your Build a Case now by purchasing a few bottles online, by phone or email. If you order online, select the Build a Case option. If by phone or email, just ask us to add the bottles to a Build a Case for you. You'll receive order confirmation and we'll cellar the wines for you at no charge.
Add to your case whenever you see wines you can't resist. Each time you add to your Build a Case, you'll be charged the discounted price.
When you complete your case, we'll apply a shipping rate and contact you to schedule your case for shipment.
Because of finite space in our warehouse, we kindly ask that you complete your Build a Case within six months. Please email or call us with any questions.